Here's Why Investing In Pro Audio Speakers Matters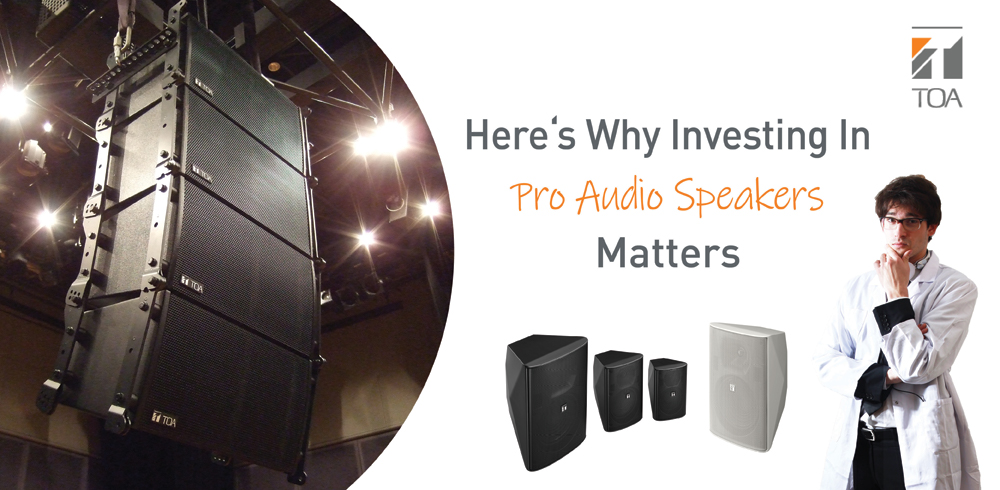 Here's Why Investing In Pro Audio Speakers Matters


Many individuals have the thought that all speakers are interchangeable and any type of speaker can be used for any occasion. For example, a common misconception is that pro audio speakers can be used to replace PA speakers and vice versa. However, each speaker is very different.
Knowing your pro audio speakers well is the first step to successfully achieve consistent, high-quality sound during your events. Here's why investing in pro audio speakers matters.

Pro Audio Speakers


Pro audio speakers are one of the most powerful speakers available in the market. Typically used in major events, pro audio speakers provide loud and accurate sound to the audience, even in areas that are not designed with proper acoustic performance in mind, such as sports halls and stadiums.
Pro Audio speakers have a wider sound dispersion pattern.


Sound dispersion refers to the different directions the sound waves travel across the room. A wide sound dispersion pattern enables sound to envelop the entire toom, providing crystal-clear sound in big areas like auditoriums, stadiums, sports fields and sports halls.
Why is matters:
With a greater coverage angle, pro audio speakers can deliver sound that has greater clarity, detail and impact to even the people at the back. A pro audio speaker with a broader sound dispersion pattern can reach more people than another powerful speaker with narrow sound dispersion pattern.
The best pro audio speaker with a wide dispersion angle is
TOA's wide dispersion box speakers
. With their advanced, proprietary waveguides for broad, consistent coverage, they are excellent for performance applications in restaurants, schools and other public facilities.
A majority of Pro Audio speakers can withstand rough handling and rugged environments.


Many of them are made of tough exteriors that can withstand all types of weather, rough handling and rugged environments. They are built to last better and longer.
Why is matters:
A durable pro audio speaker will be more long-lasting and cost-effective. They are not as fragile and can be used in indoor and outdoor applications,
TOA SR speakers
are extremely durable and versatile. The can either be mounted in groups on cluster brackets ot used as standaone to provide an ideal balanace of sound, quality and volume.
Get your Pro Audio Speakers Today!


At TOA Electronics Pte Ltd, our mission is to supply you with high-quality equipment with first-call sound. Check out our latest range of
pro audio speakers
available in Singapore