3 Ways to Effectively Use Your Pro Audio Box Speakers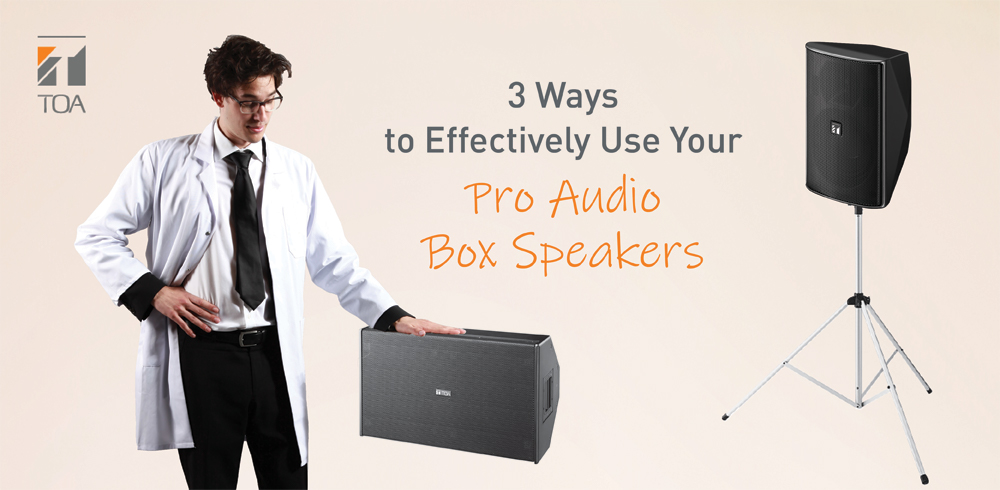 A pro audio box speaker is an upgrade from a normal speaker. It packs a mightier sonic punch and is suitable for sports facilities and outdoor concerts. But if you think getting a pro audio box speaker is enough to have your sound heard loud and clear, it's time to change your tune. Room acoustics, speakers' placement, and speaker equipment actually play a crucial role in affecting the sound volume and quality.
Here are three ways to effectively use your pro audio box speakers so they can provide a more pleasing audio experience to your audience.
1. Arrange your speakers in an equilateral triangle
Whether it's a theatre, an indoor sports hall, or a restaurant, every space has an acoustic sweet spot, where the sound is distinct and audible. The easiest rule for the best speaker placement is to create an equilateral triangle.
Set each speaker at an equal distance from each other and from the listener. If your speakers are mounted at the top, position each speaker at the same height and distance from the walls and corners. Once the speakers have been set, angle them so that they're aiming directly at the audience.
For easy setup and teardown, it is best to get a speaker that is designed for use in both temporary and permanent installations if your room setting is always changing. 
Tip: Have insufficient bass? Place your pro audio speaker close to the walls and corners to boost the bass.

2. Install sound-absorbing items in the room
The performance of any speaker is influenced by room acoustics. Understanding the space and layout of the room will help you to get the most out of your speakers.
Glass windows, bare walls, and/or hard tile or wood surfaces can create a lot of sound reflections. To reduce harsh reverberation effects, install sound-absorbing items like curtains, carpets, and mats. These items dampen sound and absorb reflections, creating a better acoustic environment.
Tip: Have trouble installing these items outdoors? Get a pro audio speaker that delivers both short and long distance coverage for your music to be heard loud and clear.

3. Buy a speaker stand
If you're balancing your pro audio speaker on a shelf, table or even the floor, it's time to invest in a speaker stand. These furniture affect the sound of your speaker – they vibrate, trap, and redirect sound, creating buzzing noises and audio distortions.
Not only will your setup look tidier with a proper speaker stand, it will also sound a lot better as the speaker can be set up near the audience. Speaker stands are designed to minimize vibrations, delivering clearer sounds to the listener.
Speaker stands also bring up your speakers, useful for distributing your sound directly to the audience and around the location, providing a better audio experience as there is less redirected sound.
Tip: Mount your pro audio speakers on mount brackets to save even more space.

Conclusion
From the above, we can see that room acoustics, speakers' placement, and speaker equipment make a difference to the sound volume and quality. Get the most out of your pro audio box speakers so that your listeners can enjoy the full benefit of crisp, distinct sound. At TOA Electronics Pte Ltd, our mission is to supply you with high-quality equipment with first-class sound. Check out our range of pro audio box speakers available here.