Office Solutions to Help Prevent the Spread of COVID-19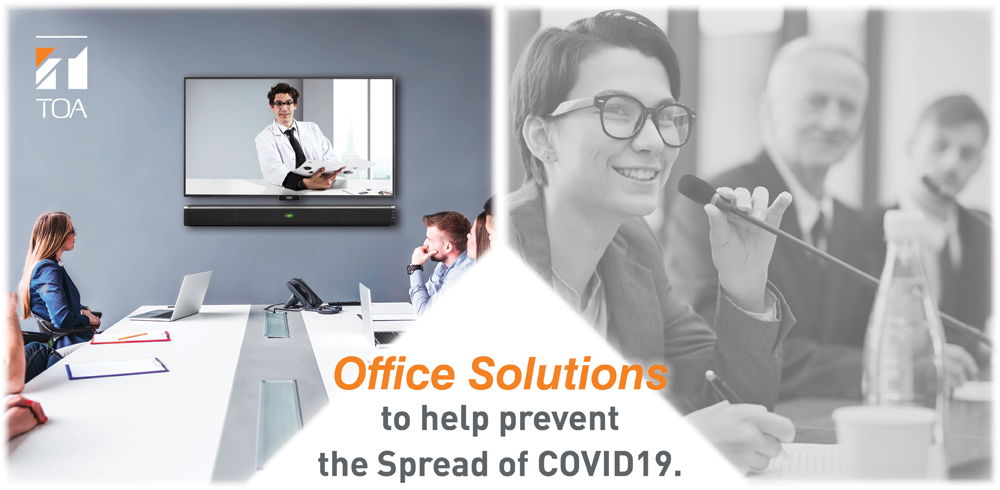 The world is currently facing an unprecedented crisis. In this COVID-19 pandemic, various regulations like physical distancing as well as group and travel restrictions have changed the way people interact and how businesses function. We offer the following office solutions to address these new challenges and to prevent the further spread of COVID-19.


Contactless Control Systems

Any parts, like door handles or keypads, that are touched by many individuals might be a transmission point for the virus to infect even more people. To reduce the risk of transmission, contactless control systems for restricted areas should be considered. Contactless alternatives include face recognition, mobile phone readers and biometric readers like hand or eye scanners.

Due to physical distancing rules, seating arrangements for meetings must also comply with social distancing guidelines.
An
infrared wireless conference system
can facilitate communication between members of different events. It works just like a wired conference system, but without the cables and the crowding of participants in large, physical meetings.

Businesses have greater flexibility to re-arrange the seats in meeting rooms or conduct meetings in a larger space so participants can keep their distance, without being restricted by wires or have a long set-up time.

Many people will need to join meetings remotely due to the group and travel restrictions. If a comfortable web conferencing audio experience matters a lot, opt for an audio collaboration system.

Audio collaboration systems are specifically made to deliver the audio loudly and clearly. They typically consist of a soundbar with powerful 2-way speakers, a digital sensor processor to reduce echoes and noise, and line-array microphones to pick up any participant's voice, regardless where the person is seated.

Get the Best of Both Worlds with a Video Conference System

The pandemic has forced many people to work from home and have limited, large group interactions. Online meetings are now the norm, where people login online to participate virtually.

A video conference system delivers the best of both worlds - high definition video, where one can see and be seen, as well as crisp audio, where everyone hears and can be heard with. This gives you the most natural virtual conference or meeting experience.

At TOA Electronics Pte Ltd, our mission is to offer you world-class solutions for your meetings and conferences. Check out our range of conference systems available
here
.