How to Maximize the Use of Your Digital Mixer Amplifier in Cafes and Bistros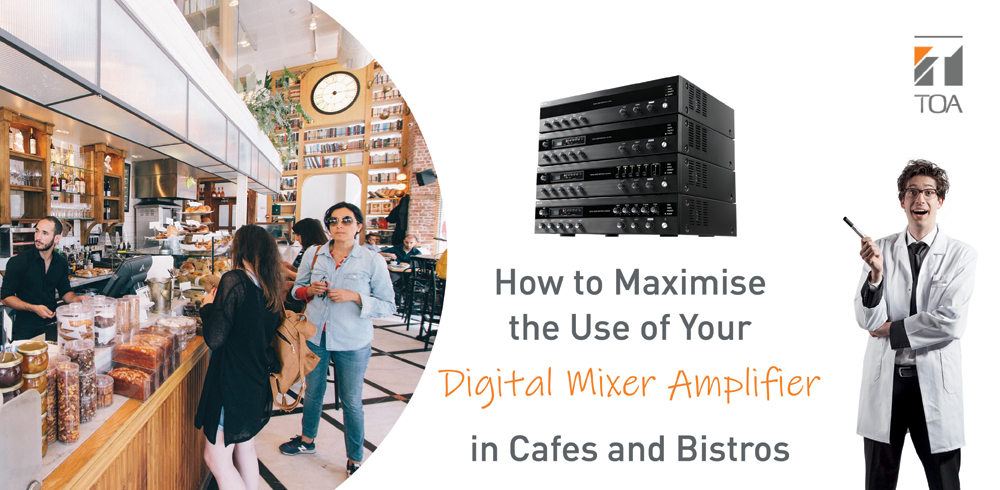 How to Maximize the Use of Your Digital Mixer Amplifier in Cafes and Bistros

Running a cafe or bistro in Singapore is serious business.
To be successful, the ambience like having good music is crucial for drawing in customers and enticing them to return
. If your cafe or bistro does not offer live performances, you can get away with having your mixer built into the amplifier. 2-in-1
digital mixer amplifiers
are popular choices amongst cafe or bistro owners in Singapore to get that extra oomph, without compromising on sound quality. Whether you're still on the market for digital mixer amplifiers in Singapore or looking to maximise the use of your digital mixer amplifiers, this article will help you get on the right track.


2-in-1 Digital Mixer Amplifier 

A 2-in-1 digital mixer amplifier is a combination of a mixer and amplifier. This is a more versatile and value-for-money solution for cafe or bistro owners who need mixing, routing, and paging capabilities, as well as amplification.

If you haven't gotten a digital mixer amplifier, you should consider the following two tips. 

1. Use Your Venue Size as a Guide to the Wattage You Need

When buying a digital mixer amplifier, the wattage is your highest priority. Without proper amplification, your music cannot be heard well even if your laptop is plugged directly into the largest speaker system. High wattage is a must for loud music. The general rule of thumb is 5 watts per person listening. If your cafe or bistro can seat 95 people, a 480 watts digital mixer amplifier is a safe choice.


2. Get a Bluetooth-Compatible Digital Mixer Amplifier

Cut the cord and wirelessly stream high-quality sound from your smartphone, laptop, or tablet with a Bluetooth-compatible digital mixer amplifier. Being connected via Bluetooth means you don't have to deal with any cable clutter, freeing up space and keeping your store neat. Whether you're located indoors or outdoors, switch tracks and adjust the volumes- all from a distance.


If you have already gotten a digital mixer amplifier, it's time to maximise the use of your digital mixer amplifier in Singapore with the following tips.

1. Adjust the Frequency to Suit Your Settings
Want to lower the bass frequencies in preparation for Friday Date Night? For a cafe or bistro, a mid-range to high frequency (800 Hz to 2 kHz) is ideal to carry the sound over conversations. According to an experiment, music with higher frequency is also proven to bring out the sweet flavours of your food. Play higher-pitched music if you're a cafe or bistro owner serving dessert. Getting the right frequency range on your digital mixer amplifier is essential to hear the sweet sounds of success.


2. Volume Matters
The music volume affects how and what your customers consume. If you're running a cafe that specialises in drinks, turn up the volume to increase drink sales and vice versa if you're selling food items, according to this study.
But it's still important to match the energy of your customers with the volume of your music. Don't drown them out with too-loud music. You can also consider the sit and stand rule: 
If more of your patrons are sitting, turn down the music. If the majority are standing or moving around, keep the music up.


Ending on a Special Note
Now you're ready to rock your cafe or bistro with an amazing, crisp sound. Even if you've set up your digital mixer amplifier, you're not quite ready to blast out your music yet. It is important to invest in decent speakers. After all, good audio has to start from the source and the speaker is where the music happens.
A great atmosphere is critical to running a successful cafe or bistro in Singapore— customers' experience can make all the difference. Invest in a quality digital mixer amplifier and surround yourself –and your customers- with good sound. At TOA Electronics Pte Ltd, we provide high-quality digital mixer amplifiers in Singapore. Check out our available range here.