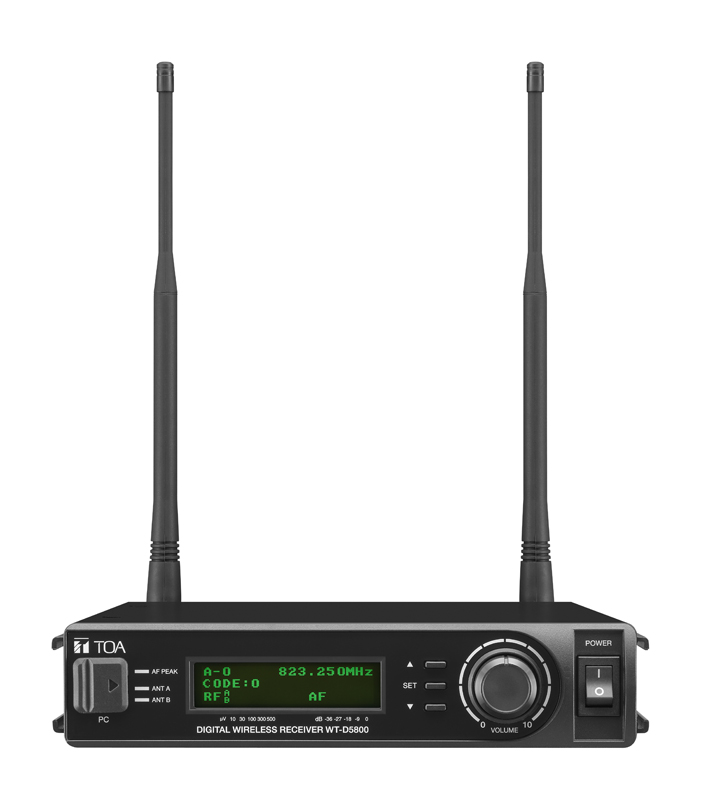 WT-D5800
The WT-D5800 is a PLL-synthesizer controlled double super-heterodyne diversity receiver designed to be used with a UHF wireless system. Employing a digital reception system that is virtually immune to interference and noise, the WT-D5800 Wireless Receiver ensures stable radio signal reception. Additionally, this receiver features a host of convenient functions, such as external equipment control by way of contact outputs, and system status monitoring by way of its maintenance software, enabling highly reliable operation.
(*1) 0 dB = 1 V
Notes: The WT-D5800 cannot communicate with the TRANTEC wireless system (S4 and S5 series)
The WT-D5800 cannot communicate with the TOA analog wireless system (WM-5325, WM-5225, etc)
(*2) AC adapter type varies according to version, please refer to specification sheet for more information
Notes: Not supplied with the WT-D5800 (A2/EC4/-G1). For the usable power supply cord and AC adapter, contact your nearest TOA dealer.
| | |
| --- | --- |
| Power Source | AC mains (supplied AC adapter must be used) |
| Current Consumption | 350 mA (13.5 V) |
| Frequency Range | EC4/EC7 ver.: 798 - 832 MHz, EG1/GG1/-G1 ver.: 606 - 636 MHz, RH1 ver.: 576 - 606 MHz, A2 ver.: 694 - 703 MHz |
| Channel Selectable | 160 selectable frequencies |
| Receiving System | Double super-heterodyne |
| Diversity system | Space diversity (digital diversity) |
| Mixing Output | MIC/LINE (selectable): -60 dB (*1) (MIC)/-20 dB (*1) (LINE), 600 Ω phone jack (unbalanced), 600 Ω XLR-3-32 type connector (balanced) |
| Mixing Input | -20 dB (*1), 10 kΩ, unbalanced, phone jack |
| Antenna Input | 75 Ω, BNC (phantom powering for antenna), 9 V DC, 30 mA (max) |
| Antenna Output | 75 Ω, BNC (Gain 0 dB) |
| Contact Output | 1 channel, no-voltage make contact output, withstand voltage: 30 V DC, control current 0.5 A max, terminal block (2pins) |
| Receiving Sensitivity | 24 dBμV or less (Bit error rate:1E-5 or less) |
| Antenna Input Attenuator | 0 dB/-10 dB switchable |
| Indicator | Audio (5 steps), RF (5 steps), ANT A/B, Audio (peak), Battery alarm |
| Frequency Response | 50 Hz - 12 kHz |
| Total Harmonic Distortion | 0.5 % or less |
| Function | Frequencies scanning, Feedback suppressor, Equalizer (optimizing each compatible microphone) |
| ID Selectable | 10 patterns |
| Operating Temperature | -10 ℃ to +50 ℃ (14 ゜F to 122 ゜F) |
| Operating Humidity | 30 % to 85 %RH (no condensation) |
| Finish | Resin, black |
| Dimensions | 210 (W) x 44 (H) x 211.9 (D) mm (8.27 in x 1.73 in x 8.34 in) |
| Weight | 730 g (1.61 lb) |
| Accessory | AC adapter (*2) …1, Whip antenna …2, Rubber foot …4 |
| Option | Rack mounting bracket kit: MB-WT3 (for rack mounting one WT-D5800 unit), MB-WT4 (for rack mounting two WT-D5800 units) |