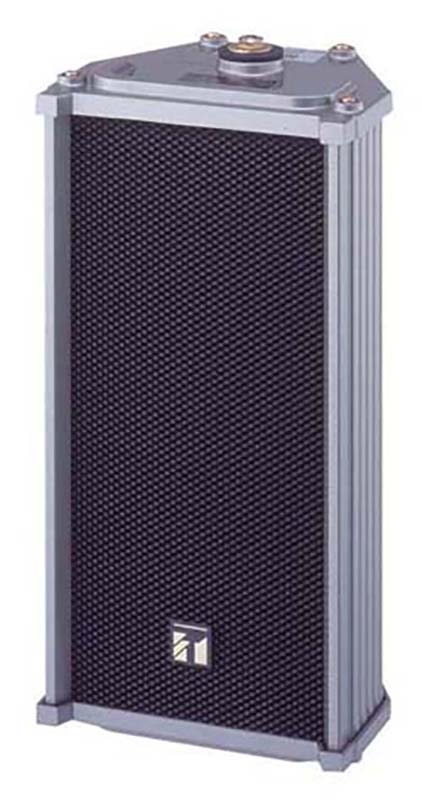 TZ-105
The TZ-105 Column Speaker employs multiple cone speakers arranged vertically on a single baffle board to provide wider horizontal directivity.
Rated Input
10 W (Max. 15 W)
Rated Impedance
100 V line: 1 kΩ (10 W), 2 kΩ (5 W)
Sound Pressure Level
90 dB (1 W, 1 m)
Frequency Response
150 Hz - 10 kHz
Speaker Component
12 cm cone-type × 2
Water Protection
IPX3 equivalent
Finish
Enclosure: Extruded aluminum, silver gray, fully-glazed, baked paint
Grille: Punched aluminum net, black, matte, baked paint
Mounting bracket: Steel plate, silver gray, fully-glazed, baked paint
Dimensions
167 (W) × 335 (H) × 141 (D) mm
Weight
3.4 kg (unit only), 4 kg (including mounting bracket)
Accessory
Mounting bracket …2, Mounting bolt, washer, packing …1 set

Note:
A drainage hole is provided on the speaker cable side of the cabinet.
When installing the speaker outdoor, make sure that its speaker cable side faces the ground.
The speaker must be installed upright or facing down.
Installing the speaker in any other position may rendor the drainage hole ineffective, eventually leading to an electrical failure or other damage.