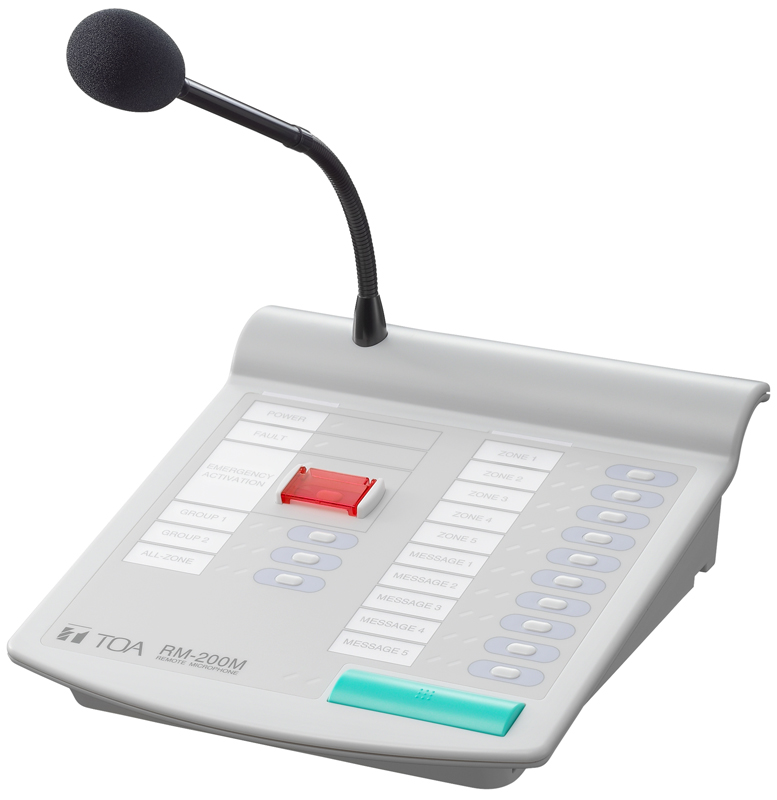 RM-200M
The RM-200M Remote Microphone connects to the VM-3240VA, VM-3360VA, VM-2120 and VM-2240 for the purpose of making emergency(*3)/general broadcast announcements.
(*1) 0 dB = 1 V
Power Source
24 V DC (Operating range: 14 - 28 V DC)
Power input jack: Non-polarity type
Usable power input plug(*2): Outer diameter ø5.5 mm, inner diameter ø2.1 mm, length 9.5mm
Current Consumption
100 mA or less
Audio Output
0 dB(*1), 600 Ω, balanced
Distortion
1% or less
Frequency Response
100 - 20 kHz
S/N Ratio
60 dB or more
Microphone
Unidirectional electret condenser microphone
No. of Function Keys
13, Emegency key (covered), Talk key
Emergency Broadcast(*3)
Activation of Emergency Broadcast (pre-recorded announcement or live
microphone announcement) by Emergency Broadcast Switch
Volume Control
Microphone volume control
Connection Cable and Connector
Category 5 STP cable, RJ45 connector
Finish
ABS resin, blueish gray (Pantone 538 or its equivalent)
Dimensions
190 (W) × 76.5 (H) × 215 (D) mm (Gooseneck microphone excluded)
Weight
750 g
Accessory
Link cable (3 m) ……1
Option
Wall mounting bracket: WB-RM200
(*2) Use the AC adapter AD-246 or equivalent.
(*3) Connecting VM-2000 only