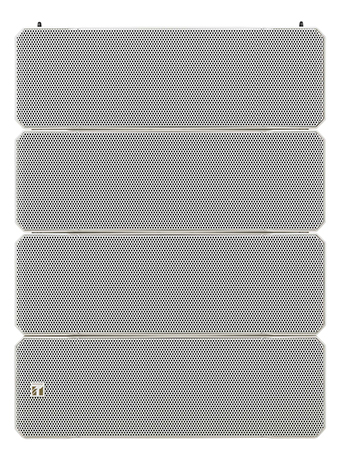 HX-7W-WP
The HX-7W-WP is a 2-way compact speaker system that permits both constant directivity control over a wide frequency range and changes in vertical directivity. Its adopted wave front control technology is ideal for reproducing clear sound in spaces with long reverberation times or high background noise. The speaker is designed to be installed under the eaves when used outdoors.
Enclosure
Sealed type
Power Handling Capacity
Continuous pink noise: 250 W (IEC60268-5: 350 W)
Continuous program: 750 W
Rated Impedance
8 Ω
Sensitivity
100 dB (1 W, 1 m)
Frequency Response
75 Hz - 20 kHz
Crossover Frequency
1.7 kHz
Directivity Angle
Horizontal: 100゜
Vertical: Depending on directivity angle mode
Speaker Component
Low frequency: 13 cm (5.5") cone-type × 8
High frequency: Wave front control horn with compression driver × 4
Input Terminal
M4 screw terminal, distance between barriers: 9 mm (0.35")
Water Protection
IPX4 (Install with every speaker module tilted downward from the horizontal.)
Installation Environment
Indoor installation, under-eave installation (*1)
Finish
Enclosure: Polypropylene, white
Punched net: Surface-treated steel plate, white, rust proof coating
Dimensions
497 (W) × 664 (H) × 274 (D) mm (19.57" × 26.14" × 10.79")
Weight
30 kg (66.14 lb)
Accessory
Terminal cover …1, Terminal cover mounting screw …4, Rubber packing …1
Option
Matching transformer: MT-200 (*2)
Matching transformer adapter: HY-MT7
Speaker mounting bracket: HY-TM7W-WP, HY-MS7W-WP, HY-60DW-WP, HY-CN7W-WP
(*1) Avoid installing the speaker in locations close to the seashore or in indoor swimming facilities that are not well ventilated. In such locations, the bracket may be vulnerable to corrosion, eventually allowing the speaker to fall resulting in personal injury.
(*2) When mounting the MT-200 Matching Transformer to the speaker, an optional HY-MT7 Matching Transformer Adapter is required.